You would have thought we had won the champions league and the lottery on Saturday by the atmosphere after the game at Dorchester - a fine performance resulting in a 4-0 win with some well taken goals and quality oozed around the team. Dorchester seems to offer nothing at all and perhaps we should have given our goalkeeper - Jack Turner - an Easter egg to eat to pass the time.
It only seems the other day we had played more games than anyone and had the less effective goal difference but now we have played less games than everyone with our goal difference taking a great boost in the last couple of games and we now have our heads above water and with games in hand to come plus the fact we are playing teams around us in the league table I am sure by the law of averages we will take some points off these teams.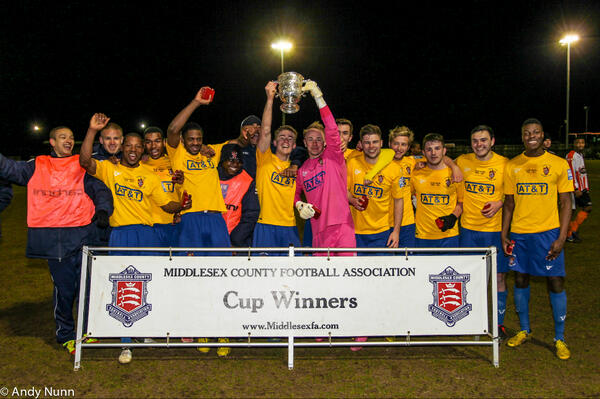 Monday evening we played Ashford Town (the next town to Staines) at Uxbridge in the final of the Middlesex county cup. Our centre halves were rested but otherwise a full strength team and we were firm favourites to win and of course we did 2-0.
A more subdued team and supporters I think than after the three points picked up at Dorchester but it was very pleasing for our captain to lift up the silver (well I assume silver!) cup with arms aloft.
We now have three home games to play in a row so of course looking for maximum points and if achieved we will have won six games in a row so not much to ask for....well we are new winners of the Champions League after all...