Saturday October 13th
| | |
| --- | --- |
| It's such a perfect day… | |
This week "The Staines man" is on a leave, so the president of the Swedish Massive will stand in and give his view of the AFC Hornchurch game.
First a couple of beers at the Whea and P together with our columnist, The Stainesman and his friends and then off to ground to say hello to Angie, Laurence, Steve and other friends before the game. We spent a few trips and games learning to know the Staines Town players. Now they were all gone! I could only recognize David Wheeler from last season, but of course I knew from The Massive site what was happening at the club. So I had great expectations on this young team, formed by an ex-player I remember well (not least from scoring the only goal in a FA-cup game vs. ManU.) And Marcus Gayle's players didn't disappoint me. A roaring start left the Hornchurch players on their heels for the rest of the game.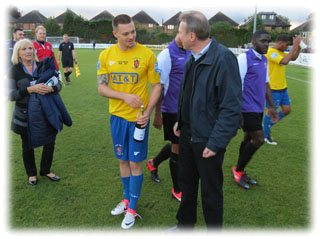 2-0 at halftime could have been 5-0. The posts denied us a goal twice and you couldn't accuse the ref of flirting with the home side. The penalty given in the second half ought to have had company. Louie Theophanous had a great afternoon and could complete his hat trick after only 50 minutes. Patrick Kanyuka made his debut for the Swans with an impressing performance in the back line. After STFC missing about ten chances including a penalty, one mistake gave Hornchurch a consolation goal.
I had another mission this afternoon: To ask Matthew Boon to sign the club pennant given to us by his father. I got a chance to ask him at half time, and he didn't only sign it but also invited us to a cup of tea. The kindness that we meet at Wheatsheaf Park and in all Staines is amazing. I was asked by Angie to deliver the Man Of The Match bottle to Louie T and to hear "…there is only one Swedish Massive" from the stands, made me very proud and happy! And after the game Angie drives us back to our hotel – "if you fly from Sweden to watch our games, it's the least I can do"

It's such a perfect day…